Feast of Venus
February 12, 2021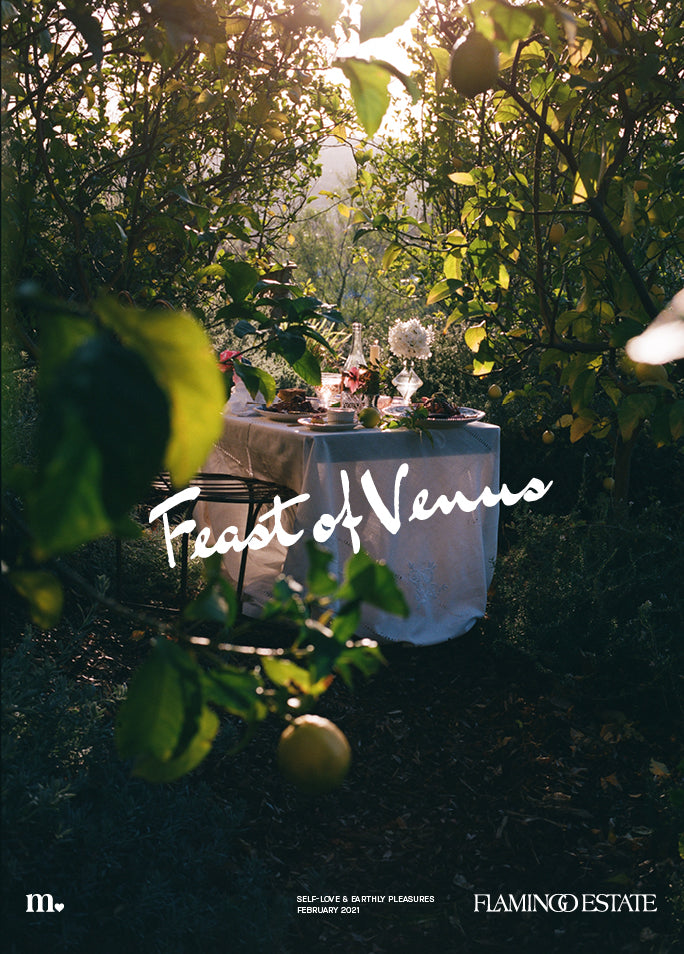 Nourishment for Your Soul Giveaway
Terms and Conditions 
1. Promotion and Sponsor.  Participation in the Nourishment for Your Soul Giveaway promotion (the "Promotion") constitutes your full and unconditional agreement to these Terms and Conditions.  The Promotion is sponsored by Chandelier Creative, LLC, 5634 North Figueroa Street, Los Angeles, California 90042 ("Sponsor").  This Promotion is in no way sponsored, endorsed or administered by, or associated with Facebook, Twitter, Instagram or any other third-party that might host content where information about this Promotion is published (collectively "Content Hosts").
2. Promotion Period.  The Promotion begins at 12:01 a.m. PT on February 1, 2021, and ends at 11:59 p.m. PT on February 5, 2021, or when a total of 500 eligible Nominations (defined below) are received (the "Promotion Period").
3. Eligibility.  The Promotion is open only to individuals that are legal residents of one of the fifty United States or the District of Columbia, age 18 or older, who at the time of participation have a valid and active Instagram account and follow @flamingo_estate on Instagram.  Employees or agents of Sponsor or its affiliates are not eligible.  Legal entities are not eligible to participate.
4. How to Participate.  NO PURCHASE NECESSARY.  Limit two eligible nominations (each, a "Nomination") per nominator and per Instagram account.  During the Promotion Period, Sponsor will publish a Promotion-branded post to the Flamingo Estate Instagram account, @flamingo_estate (the "Post").  During the Promotion Period, you may nominate any individual who is a legal resident of California, age 18 or older at the time of nomination, that resides in The Greater Los Angeles Area (Los Angeles County, Orange County, Riverside County, San Bernardino County or Ventura County), and within 20 miles of the center of the City of Los Angeles, California (each eligible individual nominated, a "Nominee").  To complete an eligible Nomination, you must comment on the Promotion Post with an @mention of an eligible Nominee, together with a brief explanation of an extraordinary act of love the Nominee has displayed and why the Nominee deserve "a little extra love this Valentine's Day," along with the hashtag "#giveaway."
Each Nomination must include the hashtag "#giveaway" to be eligible.
5. Conditions of Participation. Nominations not legitimately submitted in accordance with these Terms and Conditions are void.  Nominations must not contain any lewd, vulgar, indecent, defamatory, discriminatory, obscene, offensive or illegal conduct or material.  Nominations must not invade or infringe the rights of any other individual or entity, including without limitation, privacy, publicity and intellectual property rights.  Nominations must not contain any email addresses, domain names or URL links, phone numbers, physical addresses or other forms of contact or personal information.  Any nomination that does not comply with these Terms and Conditions will be deemed ineligible and may be deleted at the sole discretion of Sponsor.  Nominations from accounts that are not designated "public" or that are not otherwise visible or searchable by Sponsor using standard social media tracking and monitoring tools will be disqualified.  Participation by any entity, or originating at any other website, email address or Instagram account, including without limitation, commercial promotion entering and subscription notification service sites, is invalid and will be disqualified.  Submitting mass nominations or nominations generated by an automated program, script or macro, or the use of any other similar method to participate in this Promotion is prohibited.
6. Nominee Selection and Farmboxes.  Sponsor will distribute one Flamingo Estate Organic CSA Farmbox (each, a "Farmbox") to each of the first 500 eligible Nominees validly nominated in accordance with these Terms and Conditions.  Sponsor will contact each such Nominee via Instagram Direct message to coordinate shipment of the Nominee's Farmbox.  If a Nominee cannot be contacted using the information provided, or fails to respond to Sponsor's attempt to contact them within two business days, such Nominee forfeits the Farmbox, and the Farmbox will be offered to the next eligible Nominee on a first come, first served basis.
Farmboxes must be accepted by Nominees without substitution and are not, in whole or in part, assignable, transferable or available for resale.  Farmboxes have no cash surrender value, except where required by law.  Sponsor has made no warranty, representation or guarantee, express or implied, in fact or in law, with respect to any Farmbox.  This includes, without limitation, any warranty, representation or guarantee related to any Farmbox's quality or fitness for a particular purpose.  Farmboxes are subject to availability and Sponsor may substitute a Farmbox (or a component thereof) with another item of equal or greater value if the Farmbox is not available for any reason, as determined in Sponsor's sole discretion.
7. Limitations of Liability.  By participating in this Promotion in any way, you agree to indemnify, defend (regardless of ultimate liability), and hold harmless, and thereby do release and discharge Sponsor, Flamingo Estate, LLC, Match Group, LLC and Content Hosts, and each of their respective parent and affiliate companies, vendors, suppliers, consultants, sub-contractors, distributors, legal counsel and advertising, marketing, public relations, and promotional/fulfillment agencies, and each of their respective parent companies and each such company's officers, directors, employees and agents, as well as the immediate family (spouse, parents, siblings and children) and household members of each such individual (collectively, the "Released Parties") from and against any loss, damage, injury, claim or cause of action related in any way whatsoever to this Promotion or these Terms and Conditions.  To the maximum extent allowed by law, in no event will Released Parties be responsible or liable for any indirect, incidental, consequential or punitive damages arising out of this Promotion.  Some jurisdictions may not allow the limitations or exclusion of liability for incidental or consequential damages or exclusion of implied warranties.  Check local laws for restrictions regarding these limitations or exclusions.
YOU WAIVE CALIFORNIA CIVIL CODE § 1542 (AND ALL SIMILAR LAWS OF ANY STATE OR TERRITORY OF THE UNITED STATES), WHICH READS: "A GENERAL RELEASE DOES NOT EXTEND TO CLAIMS WHICH THE CREDITOR DOES NOT KNOW OR SUSPECT TO EXIST IN HIS FAVOR AT THE TIME OF EXECUTING THE RELEASE, WHICH IF KNOWN BY HIM MUST HAVE MATERIALLY AFFECTED HIS SETTLEMENT WITH THE DEBTOR."  YOU REPRESENT AND WARRANT FULL UNDERSTANDING OF, AND ACKNOWLEDGE THE SIGNIFICANCE AND CONSEQUENCE OF, WAIVER OF CALIFORNIA CIVIL CODE § 1542 (AND ALL SIMILAR LAWS OF ANY STATE OR TERRITORY OF THE UNITED STATES).
8. Right to Modify or Cancel.  Sponsor may cancel, suspend or modify the Promotion or any part of it, in any way, if Sponsor determines in its sole discretion that the Promotion is not capable of executing as Sponsor intended, or that any error, omission, fraud, technical failure, tampering, computer virus or other factor, technical or otherwise, beyond Sponsor's reasonable control, impairs or may impair Sponsor's ability to properly conduct the Promotion, subject to any applicable law or regulation.
9. Privacy. Personal information necessary for administration of this Promotion will be collected by Sponsor, who will share the personal information with Flamingo Estate, LLC, and further process the personal information, solely for the purposes of administering and managing the Promotion.  Sponsor and Flamingo Estate, LLC will retain the personal information for a period reasonably necessary for the purpose of administering and managing the Promotion. Selected Nominees will be required to provide first name, last name, and complete mailing address to Sponsor in order to receive a Farmbox.  Flamingo Estate's privacy policy can be found at flamingoestate.la/pages/privacy-policy.