Mother's Day Gift Sets
Curated sets for purpose and pleasure.
Honey is our lifeblood. A sweet, medicinal powerhouse, we make each of our honeys from happy bees that forage on Wild Sage, Rosemary, Lavender, Australian Wattle and Eucalyptus, Sweet Wildflower and Orange Blossom. Every jar is uniquely fragrant — rich in flavor and nutritional benefit. Manuka Honey is the most powerful honey on Earth, capable of healing a myriad of ailments.
Narcissus Flower Collection – P.11
YES, we've all known one. And the Narcissus flower is indeed worthy of self-love. BUT its name is not derived from the mythical man who was tragically in love with his own reflection, but from the Greek word narkao: "to benumb." Socrates called the flower "crown of the infernal gods" because the bulbs, if eaten, numbed the nervous system with their narcotic properties. Roman soldiers carried bulbs of Narcissus in their armor to benumb themselves.
Some say people are so attracted to flowers because they symbolize the promise of coming fruit. Spring is a promise — and a call to action. The garden is full of bright anticipation. Everything is abloom — Plum, Peach, and Apricot trees offer their blossoms to the heavens, open, unfurling, and ripe for pollination. In Los Angeles, Spring fruits include Avocados, Blood Oranges (hold still my heart!), Grapefruit, Mandarins, and Meyer Lemons, among a host of others. And for the rest of the garden, Spring is the busy season. We're busy morning til night, fertilizing and composting, encouraging new growth and nurturing fruits to come.
Petrichor Collection – P.14
Our Petrichor Collection is inspired by the scent of the earth after the rain. From the Greek "petra," meaning stone, and "ichor," the blood-like fluid in the veins of Greek gods, the smell is produced when rain purifies the air, restores dry earth, and activates plant compounds. We re-created the aroma of Flamingo Estate after a rain — clean air on soil and red brick — with a limited-edition body oil, soap, and candle, a blend of Myrrh, Eucalyptus, Vetiver, and Tulsi.
These are the best olive oils we've ever tasted, not only for flavor, but for health benefits and world-class acidity levels, too. Our organic Olives are grown in sun-soaked California valleys. The chill of early winter brings the annual olive harvest, and the sweet richness of fresh-pressed olives fills the air from November to January. We only use the freshest harvest for our olive oil, with each varietal handpicked in November and cold-pressed immediately to ensure critical freshness and rich antioxidant and polyphenol content. In fact, our olive oil has a polyphenol count of 480 mg/kg, a remarkably high number that helps reduce the risk of heart disease, cancer, and all neurodegenerative diseases while retaining its fruity, buttery goodness.
Tomato Candle – P.19
It's not usually considered a Spring treat, but we've fossilized our favorite fruit in wax so we can conjure the pomodori of Sicilian kitchens with the simple strike of a match. This was the first candle we made, and it reminds me of my grandmother's kitchen. And since she always told me to do more of the things I love — we made this in a new, bigger size. This one's for you, Nanny.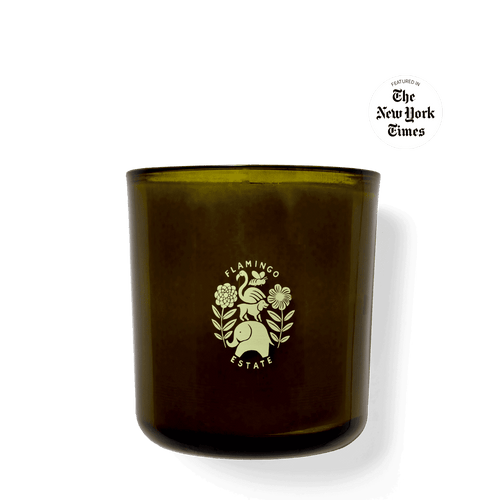 Conjures memories of late Summer dinner parties in Sicily.
We worship the Tomato. Ripe, supple, and bursting with juice, the scent of the Heirloom Tomato catapults us to memories of late Summer dinner parties in Sicilian gardens and awakens pleasure in all our uncommon senses.
I jump out of bed at sunrise and make a cup of coffee. It's my favorite morning ritual — when the house is dark and quiet, apart from the roosters down in the orchard. The rich aroma floats all the way through the house.

I'm obsessed with coffee. And it took us years to get it right. I love a dark, powerful coffee that smells like Caramel, Toffee, or bittersweet Cacao. Ours are sustainably grown in lush soil by farmers in Guatemala and Colombia who we know and love.

We roast it here ourselves every Tuesday & Thursday. Don't keep this in the cupboard — it's crafted to be used within 3 weeks, so the smell and taste are exceptional. It's the coffee I've always dreamed of making.

Our Limited Edition Coffee Tin is now available as an optional add-on with your Coffee Purchase. I like to keep it out on my counter at Flamingo.

Our Medium Roast is a rich dance of flavors: toasted Cacao, Toffee, Ripe Cherry, and poised acidity. We roast our beans every Tuesday here at Flamingo. Our beans are sustainably grown in lush soil by coffee farmers in Guatemala and Colombia — we pay our growers a verified living wage and provide them with stable, long-term demand to support their livelihood and communities.
x Richard
Roasted fresh twice a week:




Order by 4pm PST Monday for shipping by Wednesday




Order by 4pm PST Wednesday for shipping by Frid

ay
Tools for Pleasure – P.35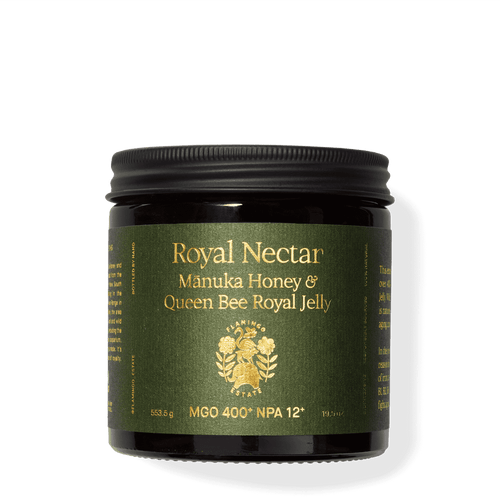 This extremely rare and highly active Honey is certified with over 400+ mg/kg of MGO, NPA of 12+ and 5% fresh Royal Jelly. With its powerful medicinal properties, Manuka Honey is one of nature's greatest weapons for supporting wellness, containing the highest levels of polyphenols of any Honey.
In the hive, Royal Jelly is fed exclusively to the Queen (and the reason she lives 40 times longer than other Bees), packed full of iron, calcium, magnesium, manganese, sulfur, zinc, vitamin B1, B2, B6, C and E. Royal Jelly is rich in antioxidants that help fight the damage caused by free radicals. It's a miracle.
Learn More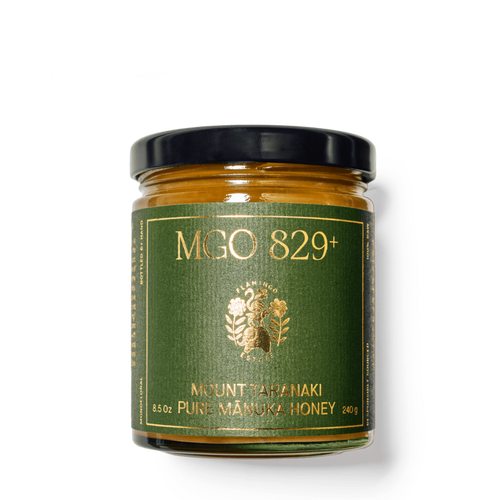 We spent December in New Zealand, harvesting the world's most powerful Manuka Honey from remote Mount Taranaki. This was a complicated task: the volcanic soil has created a dense, rugged landscape that is impossible to reach (the nearest road is many hours away). But the impossible landscape creates the most potent medicinal honey, found nowhere else on earth. So we helicoptered our hives onto the native bushlands and valleys at the base of the mountain, and let the bees work — before helicoptering them out.
The result is a medicinal-grade, highly active honey independently tested to contain a whopping 829 mg/kg of MGO along with other potent phytocompounds. It's extremely rare with strong antibacterial properties — 'monofloral' meaning that it comes solely from the nectar of the Manuka. The Manuka plant (Leptospermum) is native to New Zealand and blooms just around 4 weeks per year. It has a long, rich heritage with the Māori, who revered Manuka for its highly potent medicinal benefits. Among them, healthy gut microbiome, skin, and immunity. Unlike any other honey in the world.
Our new harvest is totally raw with a creamy, crystallized texture and an earthy, herbaceous flavor. Enjoy by the spoon for internal immune support, or as a face mask for rich hydration and cleansing. Only 500 precious jars available.
Books are Medicine – P.45
Queen of the Desert – P.53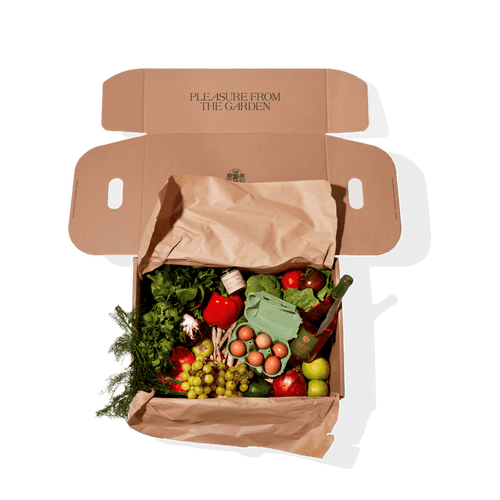 The Farmers Market comes to you. The Regenerative farm box is a chance for us to support the best farmers and growers in California while delivering the most delicious, nutrient-rich, and nourishing food to our LA community. Each box is overbrimming with a rotating curation of fruits, vegetables, eggs, baked goods, and weekly surprises, like seeds, spices, herbal teas, and Flamingo Estate products. Order by Wednesday 9 PM for Friday delivery (Los Angeles only). 
*Does not include wine. Price includes delivery.
There will be no Farm Box delivery the week of Friday, December 29th.

Mama Mia Pasta Queen – P.67
Sweet Nothings – P.73
Our Orchard Chocolates are works of art — the rare, elusive magic that happens when really good dark chocolate meets botanical garden ingredients. Moms love 'em!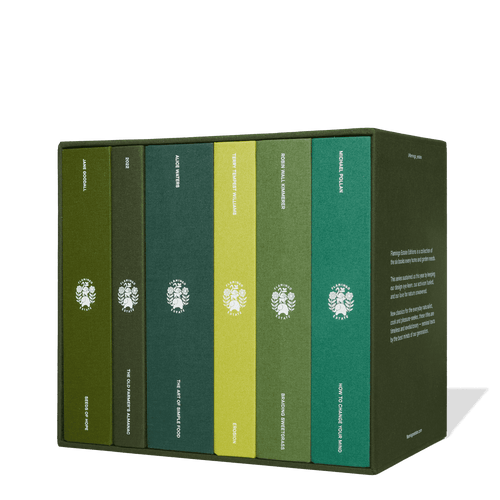 We're proud to release our first-ever collection of books — a set of six essentials for home and garden written by our heroes: Jane Goodall, Michael Pollan, Terry Tempest Williams, Alice Waters, Robin Wall Kimmerer, and the collective folk wisdom of the iconic Old Farmer's Almanac. Each of them has moved us greatly, and we're thrilled to share their genius with you.